SHOP OUR SALES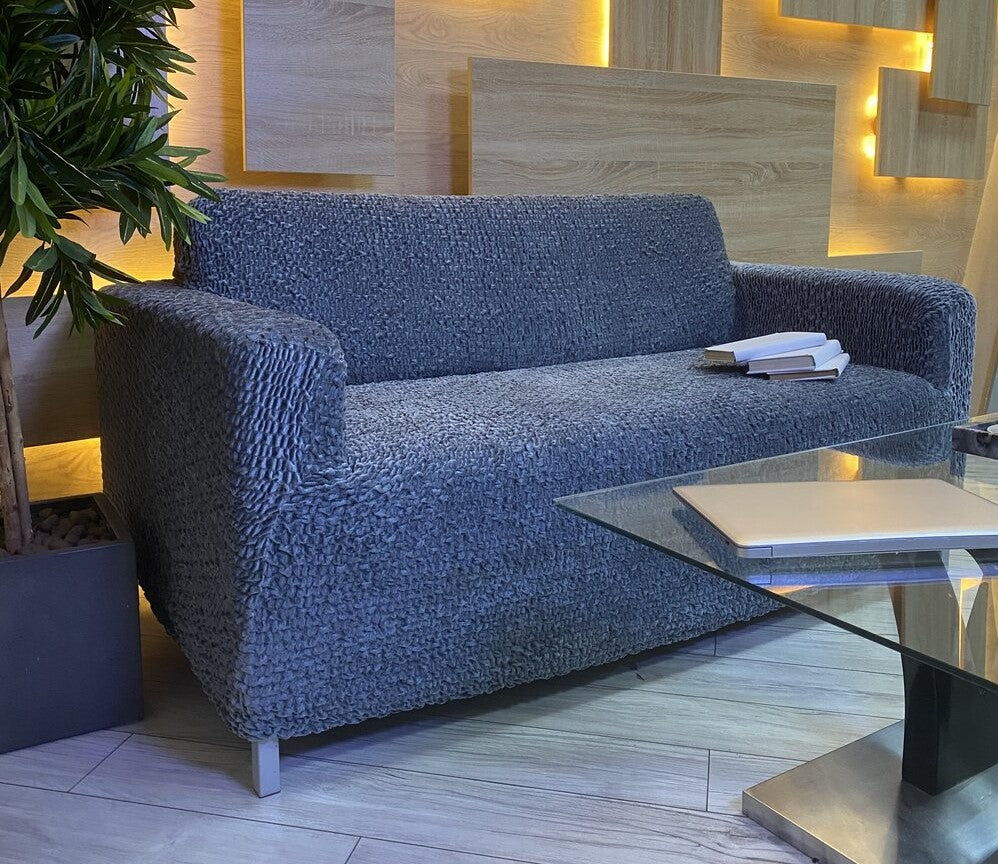 MammaMia Covers vs. Other Slipcovers: Who's the Winner?
Some extra covers aren't just for protection of your sofa from dust and damage of the upholstery, it also can significantly refresh the interior of the room. It might help keep your sofa looking good for longer, so you don't need to buy a new one. Mamma Mia Covers produce the best sofa covers for this purpose.
The wide range of collections, designs, sizes and shapes makes Mamma Mia Covers perfect for any piece of furniture, from a recliner to an L-shaped sofa.
Finding a high-quality slipcover might be tricky, as many manufactures have emerged on market these days. So let's have a closer look and compare our covers to other brands see how Mamma Mia Covers stand out from the competitors.
Fabric Quality
✔ 
For Mamma Mia Сovers we are using thick fabric, produced in Italy. As it is manufactured by Paulato technology, our fabric has unique patterns and structure.
✗ Other manufacturer's fabric is usually thinner and when you stretch it, you can see everything through the fabric. The sewing technique is usually average-standard that makes their covers low quality.
Stitches
✔ All the stitches in our products are strong and hidden on the backside of the sofa covers which makes Mamma Mia Covers a premium class slipcovers.
✗ The stiches on the covers from other manufactures are usually of poor-quality and loose, that makes their goods short-lasting.
Fixing Accessories
✔ To keep your sofa or chair covers in place we have triangular folding cardboards with ridges that are made of biodegradable, eco-friendly material and are very easy to use. Just tuck the fabric and secure it with cardboards.
✗ Fixing accessories from other manufacturers are usually made of foam rubber or plastic that is not eco-friendly and it cannot secure the covers well.
Water-Repellent Effect
✔ For our covers we use a fabric made by unique technology that has water-repellent effect-quality, so you don't need to worry about spills and stains on the sofa anymore! All you need is to wipe it with a tissue or a sponge and the cover will be as good as new.
✗ 
Other brands use regular and thin fabric that may quickly absorb moisture. As a result, you will have to clean not only the cover but also the sofa as well. Stains remain on the fabric for a long time and it is almost impossible to remove them later.
Fit and Look
✔ The perfect fit makes Mamma Mia stand out in the market and it look like expensive upholstery. The cardboards help to secure the sofa cover well and the bi-elastic material stretches along with the sofa shape to the form needed. The wide variety of colors and fabrics allows you to choose the best sofa covers that will suit your interior.
✗ 
Most of the other brands do not fit well and do not hold their shape. Due to the low-quality materials, the covers look loose-fitting and cheap.
Premium quality does not just provide comfort and a great look but it makes people happier! So do not delay contacting us right away. Do not hesitate to pick your first cover and give your sofa a new life!