SHOP OUR SALES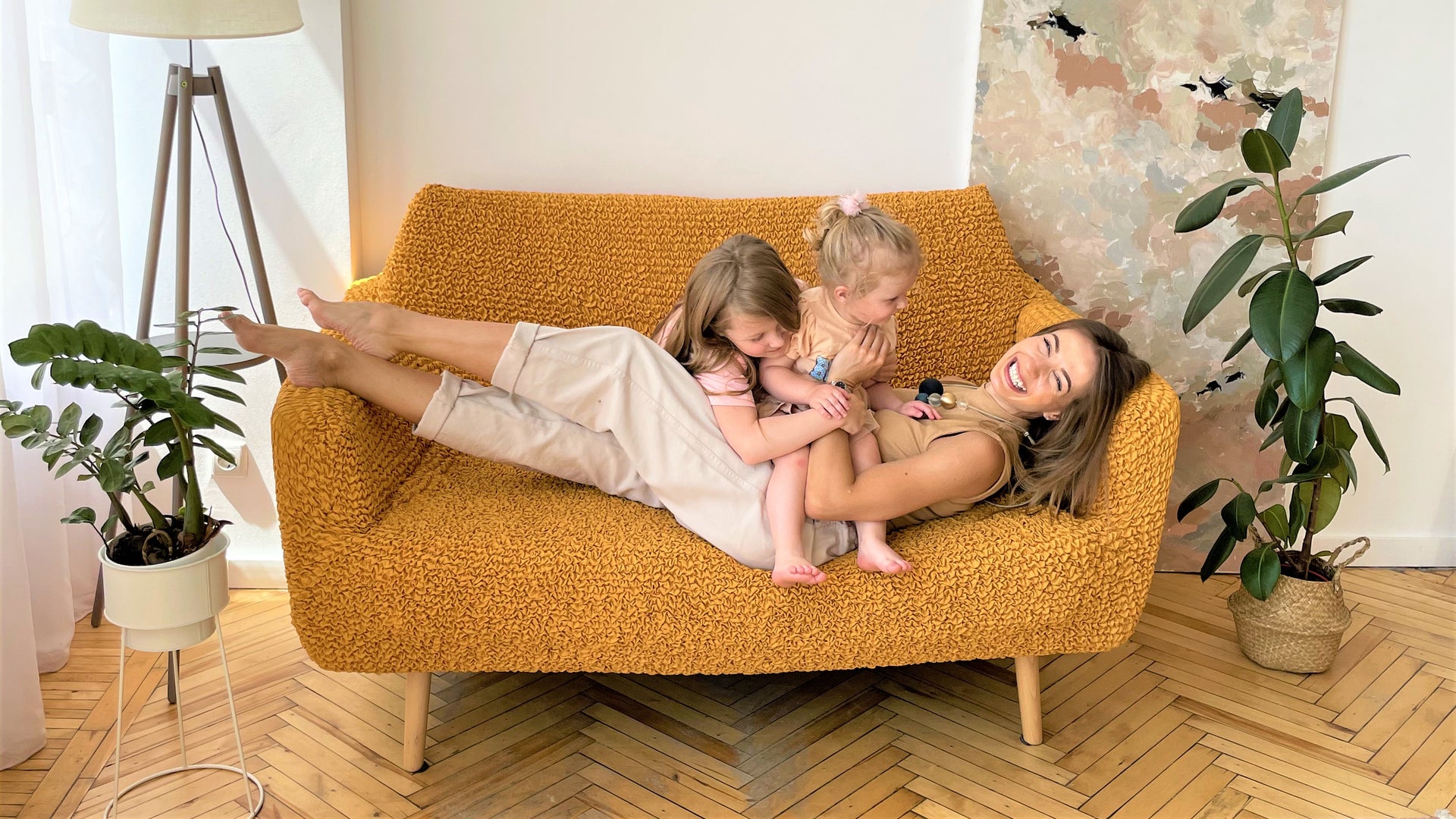 The Simplest Solution To Protect Your Furniture From Messy Children
On many occasions, keeping your house clean and tidy might seem tedious as this is a chore that has no end. Furniture wears out every day and once children and pets have something to say about it, it gets even more noticeable - dust, hair, bacteria, and God knows what else.
Picture your face the moment you catch your daughter or son making an entire mess on the brand new sofa you hooked your living room up with last week, and only a high-pitched voice manages to slip out from your mouth - "Mamma Mia!"
Yes, you're already in the right direction!
Mamma Mia Slipcovers can be one of your greatest allies that come to your aid and protect your furniture with shiny armor against various unwanted greasy threats. You can revolutionize the looks of an entire room by making only a slight single adjustment, yet the final result will be mind-blowing.
Regardless of whether you are looking for a way to renew old furniture, save it from your kids or pets, spice the living room with a new fresh look and feel, don't be skeptical about this - just read along and discover 3 simple reasons why Mamma Mia's slipcovers might just be the answer to your troubles.
Be Smart And Proactive
Let's imagine that you are getting a new fancy phone. Most probably, the first thing you would do is securing it with both a display protector and a durable case. Of course, it doesn't mean that you can't scratch or break it, but this preventive measure will definitely make you feel more comfortable and at ease when using the phone, right?
It's the same thing with slipcovers. They can help your pieces of furniture last longer and always be in a decent shape while being exposed to various types of stains. The costs to reupholster chairs and sofas could be substantial compared to taking the decision to invest a small amount in advance and transforming that call into a viable economic solution. Let the children play freely without bothering yourself too much about the consequences.
The Power Of Transforming Every Room
Not only do slipcovers keep your furniture away from tearing and spoiling, but they also provide you with a shortcut to breathing new life into the entire space. Sofas, armchairs, ottomans, or chaise lounges, you name it. You are now in control to instantly refresh your living room and give your pieces of furniture a second chance.
It's easier than ever to beautify your sofa with Mamma Mia's premium slipcovers and give the exclusive looks to your old-fashioned armchair you refuse to give up on. Besides, the custom slipcover size of the covers gives an ideal fit to literally all comfy assets out there.
Slip On, Slip Off, and Repeat
As easy as it would be for kids to leave a mess, keeping your couch looking good, clean, and comfortable is going to be twice as effortless. The slipcovers can be taken off in literally no time, the same goes for reinstalling them back to their place. It's that simple.
Even if they accidentally get dirty or soaked with the wrong treat, just put the covers into the washing machine and see your problems fade away like they never happened. Whenever you feel like they might be missing their true colors, rinse and repeat.
Mamma Mia and their mesmerizing slipcovers offer various alternatives to choose from, and they come in abundance. If you still haven't done so, then this is the perfect timing to rethink your strategy on decoration and home maintenance that you, the children, and the entire family will fall in love with.
You can have a sneak peek and browse our available slipcovers on the following
website
.