Corner Sectional Slipcovers
Corner Sectional Slipcovers
Corner Sectional Slipcover, Microfibra Collection
Price from

C$339.99
Old price

C$590.00
Blue
Burgundy
Dark Grey
Dark Chocolate
Cream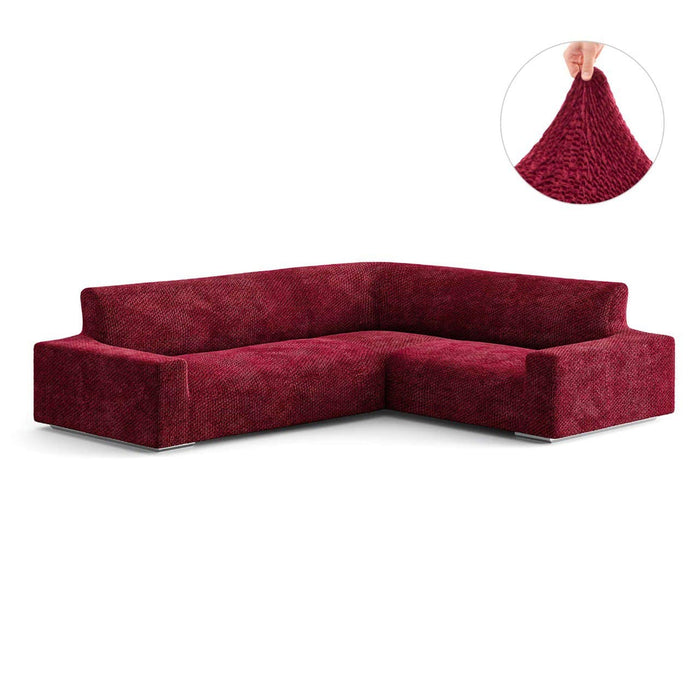 Corner Sectional Slipcover, Velvet Collection
Price from

C$414.99
Old price

C$660.00
Burgundy
Brown
White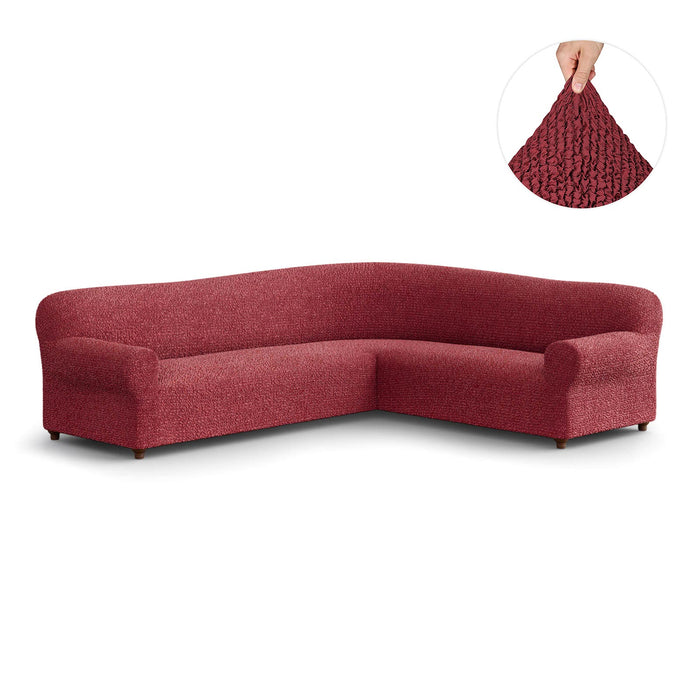 Corner Sectional Slipcover, Mille Righe Collection
Price from

C$354.99
Old price

C$600.00
Burgundy
Brown
Camel
Dark Grey
Blue
Corner Sectional Sofa Slipcovers. Corner couch slipcover fitting small and large sectional sofas. Fits Ikea corner sofa Ektorp, Karlstad. Fitting Corner Couch 135"- 208" wide. 
PLEASE MEASURE BEFORE PURCHASING.
Corner Sectional Slipcovers
A couch is always the first piece of furniture to lose its original look. It gets scratched by pets or your kids or guests inevitably spill and drop stuff (red wine and chocolate, as a rule) on it, and, after a certain period, it just becomes totally washed-out. For smaller pieces like chairs or cushions, a solution would be simple – replace them with new ones. But what can you do if you have a large, sectional couch, which can be worth thousands of dollars? Well, there is only one way to resolve the issue fast and conveniently – use a slipcover for sectional sofas.
What are Sectional Slip Covers?
Couch covers for sectional sofas are, in fact, large pieces of fabric used to cover the valuable pieces of furniture. Some of you may think that a couch slipcover is useful only during transportation, to protect the item from scratches. However, sectional couch covers don't just keep the furniture clean and undamaged; a decent sectional slipcover can completely change the look of your couch, turning it into a piece of art. Besides, sectional slipcovers are a great way to hide the damage that is already there, such as old stains.
Advantages of Slipcovers for Sectional Sofas
Any person who purchases a couch slipcover immediately notices its advantages. Let's examine each of them in details:
Simple cleaning. Using sectional slip covers means never worrying about cleaning your couch again. Most sectional covers can be easily removed and machine-washed at any convenient time.
Wide variety of designs. Just put a slipcover over your sectional sofa and you'll see it turning into a whole new product. Sofa covers for sectional pieces come in a great variety of colors, materials, and shapes; so, you can create a completely new look for the room without replacing the furniture. In addition, large sofa covers are much cheaper to replace than the couch itself, which allows you to redesign the interior every once in a while.
A sectional sofa with slipcovers offers the utmost protection from domestic animals. Pets are part of the family, and their needs should be considered when purchasing the furniture. A sectional couch with a slipcover is 100% resistant to accidental scratches that your animals can leave on it.
Things to Consider While Buying Slipcovers for a Sectional Sofa
Whether you are about to purchase a whole set of sectional sofa slip covers or just one item, it's highly recommended to consider several factors. First, make sure that the design of your sectional sofa with a new slipcover will fit the interior perfectly. You can't change the whole room as easily as you swap the sofa's sectional covers; so, it's better to ensure that all elements of the space suit each other in advance. Second, check if you need a custom solution. It is often the case with corner sectional couch covers as corner sofas come in unique shapes and sizes. You won't be able to stretch your corner sectional slipcovers as easily as straight ones. Finally, you'd need to pick the proper material for the cover. Pick suitable fabric for slipcovers for sectional couches depending on where you are planning to use the furniture (e.g. indoors or outdoors).
Where to Buy the Best Slipcover for a Sectional Sofa?
If you are looking for a corner couch cover, there's no better solution than Mamma Mia Covers. The company provides a wide choice of furniture apparel, including the best sectional sofas covers on the market. Products from Mamma Mia Covers are manufactured in Italy, with the utmost attention to detail and perfection in every aspect. The company's slipcovers receive 5-star ratings based on dozens of reviews, and they are definitely worth checking out!
FAQ
How do I pick the right size and measure my corner sectional couch?

Measure the whole back side of your sofa. You can a find a picture guide in the item description.
Will the cover maintain its shape and color after washes?

Our Slipcovers maintain color and shape after up to 120 washes.
How do I install a corner sectional slipcover? Is it easy?

The installation will take you a couple of minutes, depending on a cover. You can find detailed installation video instructions on our website and YouTube channel. https://www.youtube.com/channel/UCwL_ha1v5ydfa0DiOv83P7g .
Will it work if my corner sectional has two built in recliners, one on each end?

It will fit however you will not be able to open the recliners. It's not designed for reclining sofas so it's not recommended. We only have slipcovers for reclining armchairs.