Black Chair Slipcovers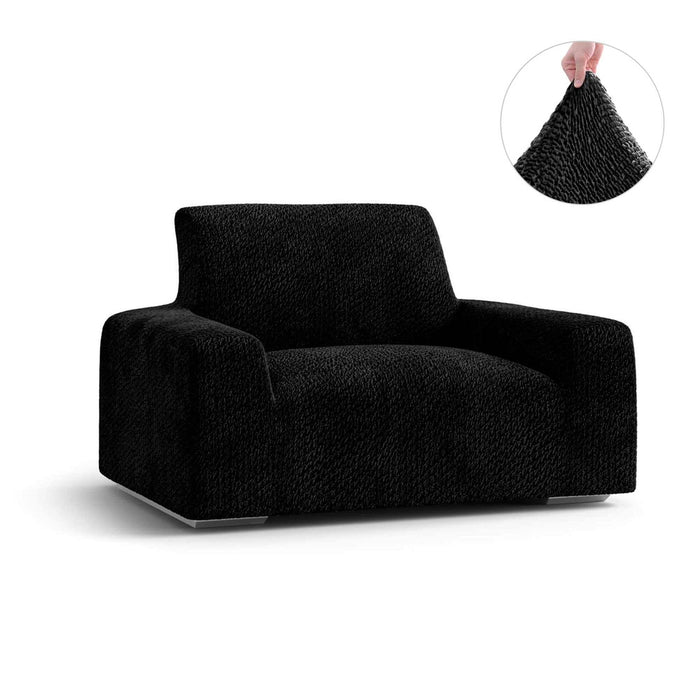 Armchair Slipcover, Velvet Collection
Price C$169.99
Old price C$245.00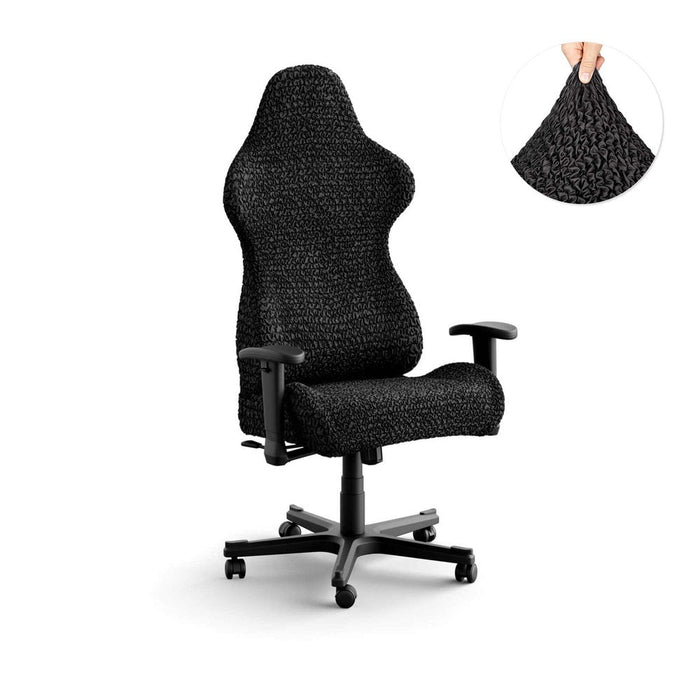 Office / Gaming Chair Slipcover, Microfibra Collection
Price C$74.99
Old price C$110.00
The idea of beauty suggests that sometimes less is more. Black is often associated with minimalism and simplicity. This is because it is a neutral color that can help to create a clean and uncluttered look. On the other hand, black is also correlated with strength and resilience. It symbolizes the power and endurance of the human spirit, as well as the strength of materials. 
We have brought this concept to life with our black stretch chair covers that can withstand extreme everyday conditions such as spills, stains, and rips. Further, they evoke luxury and sophistication and are often associated with high-end fashion. The sleek and timeless appeal of black chair covers makes them a popular choice among many US households. 
Black chair covers in the room interior

As is well known, black covers are a stylish and practical way to transform the look of any unit. Thanks to their versatility and ease of use, black chair covers are a must-have accessory for anyone looking to create a chic and classic atmosphere.
Black features intricate designs, bold colors, and attention to detail that give it a personality. Black chair covers add a touch of style and elegance to any room, making it stand out from the rest. Whether you combine them with a simple wooden table and metal chairs or pair your black covers with bright textiles, natural materials, and various accessories, success is guaranteed! 
A big benefit of black chair covers is that they allow homeowners to express their individuality and creativity while providing a comfortable and inviting space. In a contemporary interior, black chair slipcovers can be paired with bold patterns and geometric shapes to build that modern and dynamic look. This can be complemented with bright colors and metallic accents for added visual interest.
Black can inspire and motivate creativity in people, helping them feel more energized and positive. Those with sophisticated senses of style may use black chair covers with wooden tables, chandeliers, and floral arrangements to create an elegant dining room.
To tie everything together, consider adding accent pillows or throws that incorporate both the color and texture of your barrel сhair сovers and black chair slipcovers. This can help to create a cohesive look and add extra comfort to your seating area.
Advantages of getting black stretch chair covers
Black slipcovers are initially endowed with many advantages and, combined with our development methodology, they are absolutely unbeatable:
Unique fabric technology. 

We introduce a new level of comfort and convenience to our slipcovers with their advanced bi-elastic material that offers a stretchability of up to 120%. Slipcovers made with unique fabric technology offer superior protection to your furniture while enhancing its aesthetic appeal. 

Universal size. 

Our slipcovers can adapt to different furniture shapes, models, and sizes, ensuring every piece fits perfectly. Black stretch chair covers are easy to put on and remove, eliminating the need for complicated installation procedures or specialized tools. With our universal sizes, customers can switch up their decor effortlessly. 

Stunning designs. 

Our products own a stunning design and are not just functional but remind of a work of art that transforms a room into a Pinterest-worthy spot. Unlike generic or boring patterns our slipcovers are eye-catching and unique, adding character to a room.

Hypoallergenic material

.

 Our materials are typically made from natural and synthetic fibers that are processed in a way that reduces the presence of allergens. They provide a comfortable and safe environment for those who suffer from allergies or skin sensitivities, reducing the risk of uncomfortable symptoms. Our materials are also safe for pets and kids, ensuring that everyone in the household can enjoy a comfortable and healthy home environment.

Easy to care for & maintain

. With machine-washable products, customers can avoid the hassle of hand washing, dry cleaning, or specialized cleaning methods. Instead, you can simply toss the product into the washing machine, saving time and effort while ensuring a thorough and effective cleaning. 
With our high-quality standards, the chair сovers provide exceptional value for money, ensuring that your furniture remains stylish and protected for years to come. 
How to buy black chair cover from Mamma Mia Covers
Shopping with Mamma Mia Covers is always smooth and undemanding. First, you need to measure your chair according to our general measuring instructions, which you can find on the dedicated product page. Once you have the correct measurements, feel free to select your favorite collection from our wide range of high-quality furniture covers. After that, you can place your order. And if the price spent is $99 or more, we will deliver your package free of charge. Our products are typically shipped within 3 to 5 days within the contiguous USA. 
Mamma Mia Covers offers multiple payment options for your convenience, including credit card, PayPal, Google Pay, and Apple Pay. We highly encourage you to check the customer feedback section on our website, which will give you an idea of the quality we provide!