Black Couch Slipcovers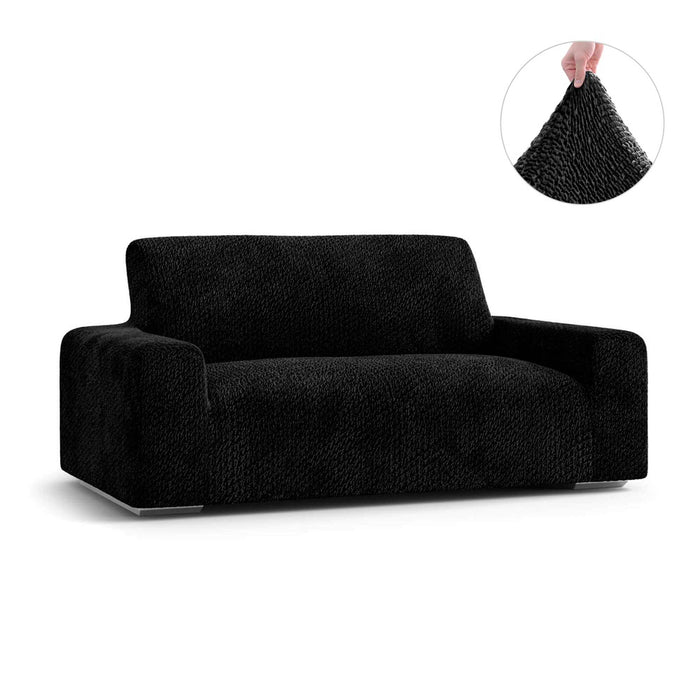 Loveseat 2 Seater Slipcover, Velvet Collection
Price C$219.99
Old price C$315.00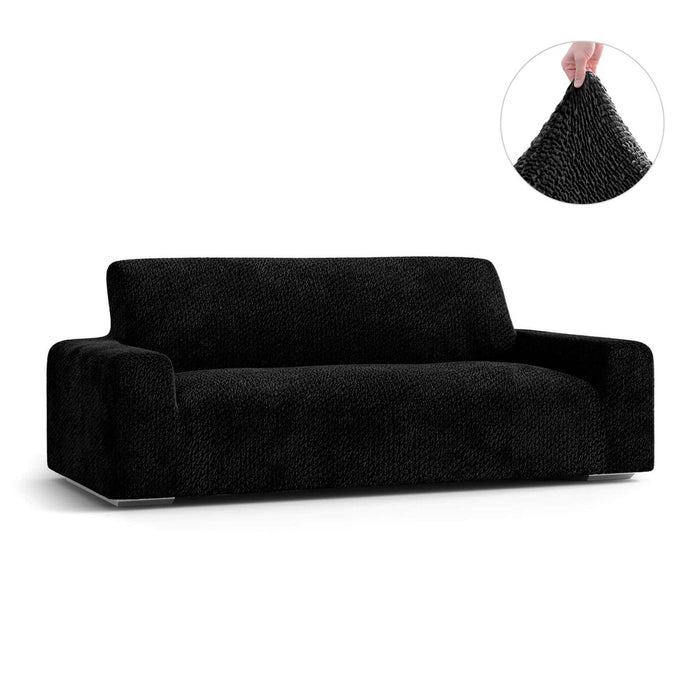 Sofa 3 Seater Slipcover, Velvet Collection
Price C$247.99
Old price C$355.00
A sofa is the most versatile piece of furniture in any house. It can be used for casual sitting or sleeping. You can seat guests on the same couch where you play with your kids or pet a cat. So its fabric naturally tends to wear out fast.
Black couch covers can slow down this process significantly. They act as an extra layer between your sofa and the environment. The sofa fabric won't get stained because the stretch black sofa slipcover will be there to protect it. They also give a bold modern look to your old couch. So, you can experiment with your home interior, giving your furniture a new look even daily.
Black sofa covers in the room's interior
Black furniture is one of the most favorite choices by designers. Couches in this color look chic. It's a bold shade, so black couch covers draw attention, making your sofa a statement piece. That's why a sofa slipcover in black is a go-to choice for many people. Here are four ideas on how you can adopt black furniture covers in your interior:
Good choice for minimalistic rooms.

 Black is one of the primary colors of the minimalistic style as well as white and gray. A black sofa cover helps you to fit a couch in the color palettes where these colors are dominant.

Bold accent.

 

The black color stands out in furniture design, so it naturally attracts attention. Buying a black sofa cover is a good way to create an accent area in your house.

Black color goes well with other colors.

 

It's one of the most used interior colors, and combining it with other furniture items (desk, dresser, etc.) will be easy.

Great fit into art deco interiors.

 This interior style is famous for its statement choices in every aspect, thus black couch covers will fit perfectly into this bold aesthetic too.
Advantages of buying stretch black couch covers
Choose Mamma Mia Covers to get the best couch covers on the market. Our slipcovers are a favorite choice of thousands of US customers. Here are five reasons why you should join them and try our black couch covers:
Unique fabric technology. 

All our 

slipcovers for loveseats

 and other furniture types use exclusive bi-elastic material with a stretchability of up to 120%. Due to this, they don't wrinkle or show signs of aging even after years of use.

Universal size.

 

Black sofa covers that we offer fit different sizes of furniture. So, the slipcover will fit perfectly even if your couch is slightly bigger or smaller than average, or has custom dimensions. The only thing you need to make sure is choosing the correct fitting range when placing an order.

Stunning designs. 

Style is in detail. This is why we provide slipcovers in various designs so that everyone can find a suitable option for their interior.

Hypoallergenic material. 

A fine state of health is crucial for overall well-being. We at Mamma Mia Covers understand it, and this is why all our slipcovers are made from quality hypoallergenic fabrics. You can use them in households with small kids and pets. Our covers don't cause any skin irritation.

Easy to care for & maintain. 

There is no need to use expensive cleaning services. All our slipcovers are machine washable. Just make sure that you wash covers in lukewarm water (delicate, handwash, or wool mode).
How to buy a black couch cover that fits perfectly
Once you have measured your couch, and decided on the appropriate fitting range for a slipcover, you are ready to place an order. Go to the product page and buy in one click with Apple or Google Pay. You can also use interest-free installments from AfterPay or ShopPay.
Shipping is free for all orders over $99 within the contiguous USA. Average delivery time varies from 2 to 5 business days. In case you aren't above and beyond with your purchase, you have 30 days to return your order. Join our 
Happy Customers Club
 to get special deals, including cashback on your recent purchase!