Black Recliner Slipcovers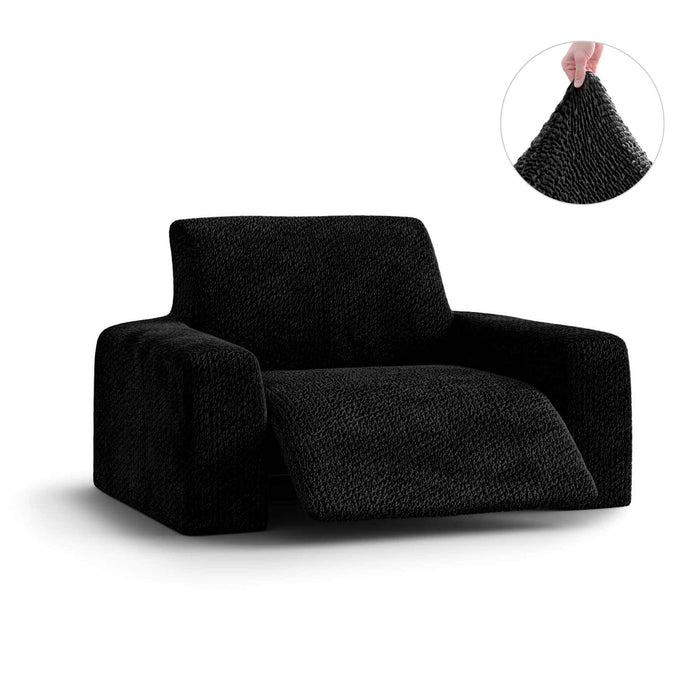 Recliner Chair Slipcover, Velvet Collection
Price C$179.99
Old price C$260.00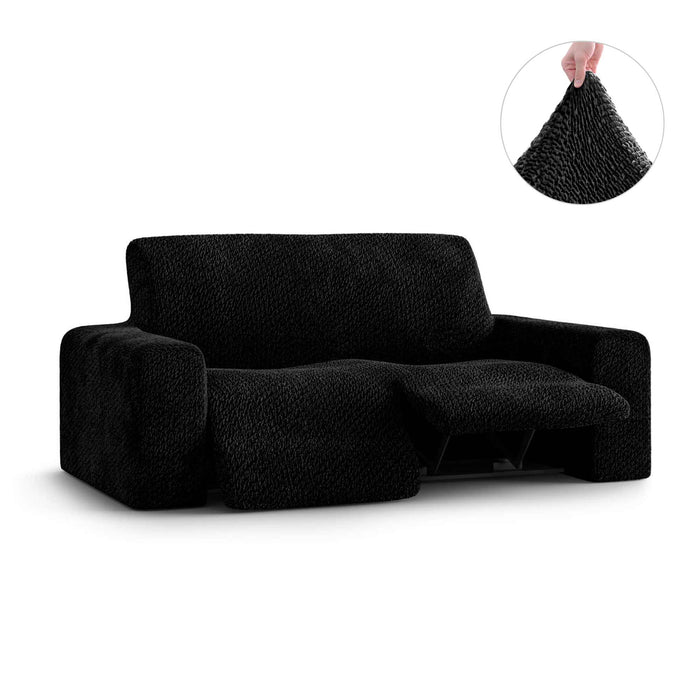 2 Seater Recliner Slipcover, Velvet Collection
Price C$227.99
Old price C$325.00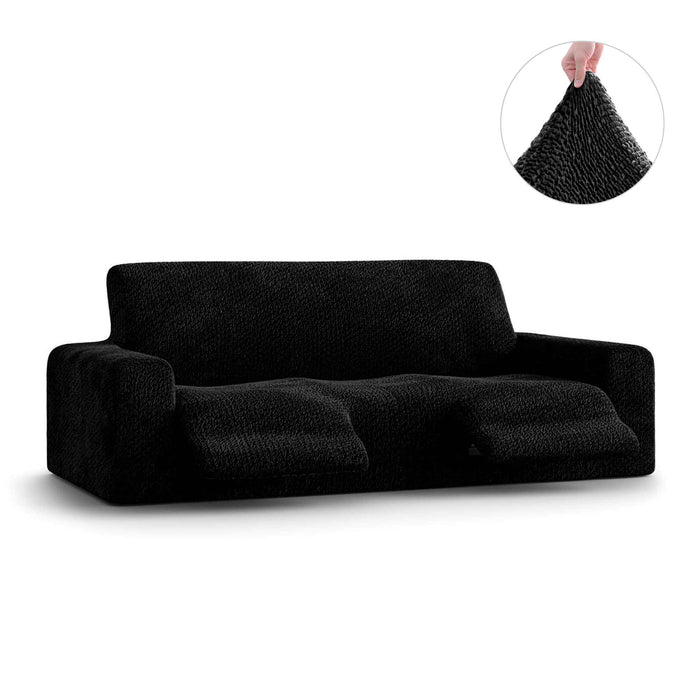 3 Seater Recliner Slipcover, Velvet Collection
Price C$257.49
Old price C$370.00
The recliner sofa is another level of furniture that provides extra comfort and relaxation. Thanks to its superb functionality people can upgrade their seating experience by leaning back and elevating their feet. This can be especially beneficial for those who seek to relieve stress and tension in their body.
However, some people believe that black is the absence of light. We, in turn, believe that the absence of black makes the interior banal, simple, and predictable. And that's when you want to slip on some black recliner covers. They help to create a sense of contrast and evoke many different emotions. Moreover, the black recliner slipcover is versatile and timeless. Let's take a closer look at the power of black.
Black recliner covers in the room interior
Black often represents sophistication, elegance, formality, and, sometimes, mystery. The great thing about black is that it goes well with literally any other color and style.
A black recliner slipcover is a versatile addition to any interior design scheme. It can elevate the sophistication of a cozy den, especially when paired with warm wood tones and plush textiles. On the other hand, in an industrial loft with exposed brick walls and concrete floors, the black finish creates a mesmerizing contrast.
In an art Deco bedroom with metallic finishes and bold geometric patterns, black recliner covers can complement the glamor and drama of your space. Meanwhile, in a mix of vintage and modern decor, black provides a grounding element that ties together different vogues.
When it comes to a classic, traditional family room with warm wood tones and cozy textiles, a black cover can add a touch of elegance and sophistication. And in the beach cottage style, black creates elegant contrast without making the space look too beachy. 
Regardless of your design, a black recliner slipcover can be a perfect solution to add contrast and refinement to a modern living room. You can elevate your home to a whole new level by choosing interior design elements that complement your cover.
Advantages of black recliner covers from Mamma Mia Covers
Our black recliner slip cover protects and enhances the appearance of your furniture in a practical and stylish way. Thanks to its significant advantages, black covers are a popular choice for many homeowners: 
Unique fabric technology

 

Stretch bi-elastic fabric is a unique and innovative material that offers exceptional stretchability of up to 120%. Due to its ability to stretch in two directions, it provides maximum flexibility and comfort as well as adapts to the shape and contours of your furniture.

Universal size. 

Our black recliner covers are designed to fit most furniture brands and models, offering a practical solution for anyone who wants to update the look of their furniture without having to buy new pieces. In addition, installation of these covers is usually quick and easy, taking only a few minutes.

Stunning designs. 

Our designs are often inspired by the latest trends and fashion, ensuring that all covers look up-to-date and on-trend. We do not use boring or generic patterns. Instead, our designs can transform your space into a Pinterest-like spot that will impress your visitors. 

Hypoallergenic material

.

 

The material of our furniture covers makes a significant difference for individuals with sensitive skin, children, and pets. This material is designed to be gentle and non-irritating, making it safe for even the most delicate skin types.

Easy to care for & maintain. 

Reclining slipcovers

 from Mamma Mia Covers are machine washable and can be easily cleaned and maintained, ensuring that they stay looking fresh and new for longer. By being able to machine wash your furniture cover, you also avoid the cost and hassle of professional cleaning services. It saves you time and effort, allowing you to enjoy your furniture without worrying about the upkeep. By following our simple care guide, you can enjoy the freshness of your black recliner covers for years to come. 
How to buy premium Italian-made furniture covers
If you're interested in buying premium Italian-made black couch covers, there are 3 simple steps to follow:
Measuring:

 To ensure a proper fit, it's important to measure your furniture carefully. please refer to the measuring guide provided on a corresponding product page. Once you have these measurements, you can consult the sizing chart to select the right fitting range of a furniture cover.

Pick your favorite collection:

 Browse the available collections to find a style that suits your taste and complements your decor. You can choose from a range of colors, patterns, and fabrics to find the perfect match for your furniture.

Place an order: 

Once you've selected your preferred collection, you can now place an order.
Enjoy free delivery within the contiguous USA if you spend $99 or more. The shipment typically takes 3 to 5 days. Payment can be settled in all possible ways, providing you with flexibility and convenience. Before making your purchase, be sure to check feedback to see how our covers look in different home settings and decor scenarios!